My Friend Amy
recently asked if I would tell her about my favourite moments between the TV characters I ship. My first reaction to this request: predictably forget who I ship. Second reaction: create a list which Amy will hopefully enjoy, complete with gifs and videos where possible.
First though a quick note; I applied some rules to the list to keep it manageable. I only includeo ships in programs that are still currently airing. I only included canon ships on this list, (the consequences of my viewing habits means that rule makes the list very hetrosexual I'm afraid my dear slashers). I also tried not to include any ships that ended in definitive tragedy in canon, to keep this post upbeat and fun, so there are probably quite a few of my favourite pairings missing because program creators killed someone off (TV: constantly killing my darlings) or because a couple broke up and seem beyond reconciliation in canon. Amy, if you want similar lists for tragic ships, or non-canon ships, that are full of pairings from programs that aren't on anymore just ask me and I will work on them. I love talking about ships :)
Ok, now the rules are in place let the shipping commence (some inevitable spoilers for romance plotlines follow):
'Homeland': Carrie/Brody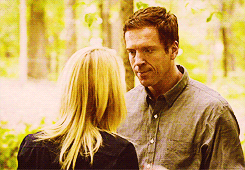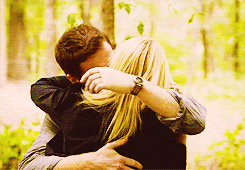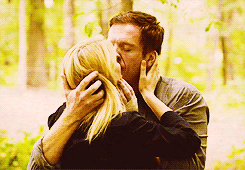 (source)
I have probably thrown this gif around too much already, but this is the moment when all my dreams came true in S2 so you'll have to excuse me . I was so excited when this episode ('The Clearing') aired; my most bananas ship was actually happening in canon! I genuinely never thought Carrie and Brody would ever be together again, after the way they used each other in S1 (Brody unforgivably to keep his terrorist mission safe, Carrie for her country's safety and a little for her own reasons). And this kiss was perfect for them – it's messy, needy and kind of uncomfortable for the viewer to watch because it's raw and all over the place. The tone of this kiss is the similarities in their character portrayals made manifest in romantic body language!

The whole discussion they have in this scene about what is happening between them
is just out of this world brilliant. It's an acknowledgement that this is not a healthy relationship, but that despite that it is what they both want and what they both need. That doesn't mean that they get to disregard all the problems that being in this relationship will bring, especially as this relationship isn't just personally unhealthy, but has professional consequences for Carey and will break up Brody's family. It just means that as long as they both go in with their eyes open this relationship gives them both something necessary.
'How I Met Your Mother': Robin/Barney
I'm way behind with 'How I Met Your Mother'. I just tend to watch when an episode is on E4 and I have nothing to do, instead of seeking out new episodes. So I know about the proposal, but I haven't seen it except in Tumblr gifs. I'm sure it's a lovely moment, but my personal favourite is the moment that started the whole Barney/Robin chain off which was the best decision the program's creators ever made. And that's the night they watch the second Robin Sparkles video in 'Sandcastle in the Sand'.
I've seen this whole episode quite a few times. It contains a lot of the things I love about this program Barney/Robin, group sketches based around a main concept (which is actually funny), Robin's love of Canada... There's a minimum of non-voice over Ted involvement and James van der Beck is thrown in for good luck. The wonderfulness is topped off by one of the best mock pop-videos I've seen in ages:

Sandcastles in the Sand

Robin Sparkles | Myspace Video
The episodes ending (where my moment occurs) is heartfelt and sad, without being sappy at all – the perfect foil to the nostalgic, sentimental "revertigo" which made Robin want to get back with an old, unsuitable boyfriend earlier in the program. Here's how it goes: Barney finds Robin alone and sad in Mclarens. She confesses that she got dumped and that her decision to get back with her ex was all about wanting to recapture feeling sixteen (when she was open and vulnerable). At which point Barney throws down the best argument against this kind of nostalgia, which essentially breaks down to 'I've seen you back when you were sixteen and you were kind of stupid back then. Now you're super awesome'. He manages to explain that Robin's behaviour has been silly, truthfully, but with a kind edge that fits Robin's emotional needs at the time.
Then the episode pretends to lead its viewers somewhere only to subvert their expectations; first Robin invites Barney back to hers and when at the flat Barney and Robin say things that seem to indicate they're going to have sex. Instead they put in a video tape and watch the secret second Robin Sparkles video. So, the viewer's expectations are frustrated, but in a way you're both relieved (notorious womaniser Barney and super awesome, upset Robin – phew, glad that didn't happen) and yet also now kind of set up to see the prospect of Robin/Barney shipping. The scene then lulls the viewer into a comfortable place as they laugh at the video clips. Softly, the voiceover builds, using repetition that serves a factual and a rhythmic purpose. And then the two of them finally kiss, as the voiceover says something like 'Until they finally stopped watching.' It is just the perfect cap to the build you almost didn't even know you were watching. It's surprising, but not jarring and suddenly everything you ever wanted.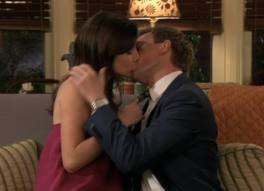 I swear I had no notion of shipping Robin/Barney until this episode. It made a total convert out of me. And while there are other really good moments between them (the meal at the restaurant where Barney is trying to make Robin think differently about him) and I love the times they're actually a couple, the moment that started it all will always be my favourite.
'The Vampire Diaries': Caroline/Tyler
S2 was rife with Caroline/Tyler moments that I loved. It's so great when they hang out! My favourite has to be when they wrap up in the blanket together in 'The Sun Also Rises'. Caroline is sad, Tyler is naked and hurt from transforming/being shot. It's a very sweet hurt/comfort moment between two people who just need to be with someone, but not just anyone, while they're in pain.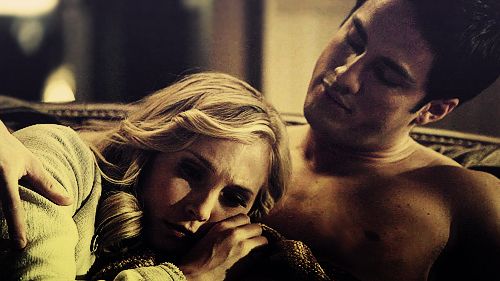 I know I ship Caroline with pretty much everyone on this show (except Damon,
never Damon
)but Forwood is kind of my permanent OTP for this show. I'm sure I'll talk more about this in my next TVD S3 episode post.
'Dr Who': The Dr/River
I'm not counting this ship as tragic. River is still alive in the current program's timeline; just because we already saw her die already (when the Dr has no idea how closely they are connected – whelp) doesn't make this ship tragic, ok!
Anyway, this isn't so much a moment between the two of them as just a throwaway thing that River says. In one episode she's coming back from a night out and she says 'The Dr took me ice skating for my birthday'. Her face is just so alive with happiness that you can see how their relationship adds something important to her life.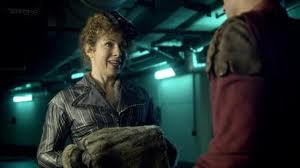 The romantic relationship between River and The Dr is one of the things I don't think Tennant's Dr could have made work as well as Smith's Dr (still a DT girl forever though, although I really like Smith's Dr a lot).
'The Big Bang Theory': Penny/Leonard
The longer this show goes on the more I dislike Sheldon, but I still love Penny and Leonard as a couple. I am a huge fan of both Kaley Cucou ('Charmed' and '8 Simple Rules for Dating My Teenage Daughter') and Johnny Galecki ('Roseanne') so this is a magical character pairing for me. Is that just me, or do other people love it when two of their favourite actor/actresses end up in fictional pairings?
My favourite moment for this ship is a simple one that takes place early on in their romantic relationship. The two have decided to go on an official date, but Penny is getting cold feet. She unwisely decides to talk to Sheldon about her feelings and gets a long, seemingly unrelated lecture on Schrodinger's cat for her troubles:
Sheldon: Anyway, in 1935, Erwin Schrodinger, in an attempt to explain the Copenhagen interpretation of quantum physics, he proposed an experiment where a cat is placed in a box with a sealed vial of poison that will break open at a random time. Now, since no-one knows when or if the poison has been released, until the box is opened, the cat can be thought of as both alive and dead.

Penny: I'm sorry, I don't get the point.

Sheldon: Well of course you don't get it, I haven't made it yet. You'd have to be psychic to get it, and there's no such thing as psychic.

Penny: Sheldon, what's the point?

Sheldon: Just like Schrodinger's Cat, your potential relationship with Leonard right now can be thought of as both good and bad. It is only by opening the box that you'll find out which it is.

Penny: Okay, so you're saying I should go out with Leonard.

Sheldon: No, no, no, no, no, no. Let me start again. In 1935, Erwin Schrodinger…
(source)
When Leonard comes over he thinks Penny is going to put a stop to their date, so he also brings up Schrodinger's cat and then kisses her to "take a look at the cat". Her response:
'Alright, the cat's alive, let's go to dinner.'
It's a really nicely paced piece of comic timing that also brings the squishy feelings. And I have extra feels about it because it reminds me of another relationship where the Schroedinger's cat hypothesis is important. How can I watch that scene and not think of
'The cat has a boyfriend.'
?
'Hollyoaks': Ste/Brendan
I stopped regularly watching soaps a couple of years ago, but I do tend to dip back into some of my past favourites whenever a gay romantic storyline comes to the front. I was also casually following this storyline because Brendan is exactly my kind of character (read tall, dark, gay and psychotic, with a bonus serving of Irish accent).
With this being a soap Brendan and Ste have both been through some massive personality changes and I get why not everyone might be that ecstatic about their particular gay happy ever after. Both have been abusive partners. Brendan hit Ste, I think when they were broken up and Brendan has been all round awful to Ste in the past. Ste is leaving a loving marriage with an absolutely wonderful man to be with this angry moustached criminal.But when Brendan finally told Ste he loved him a few weeks ago, on the Ha'penny bridge in Dublin, surrounded by <ahref="http://en.wikipedia.org/wiki/love_padlocks">love locks I was so happy. It was unusual to see Brendan be so true and open - *swoon*. It had just been such a long, tough road and they understood each other so well and they both meant so much to each other.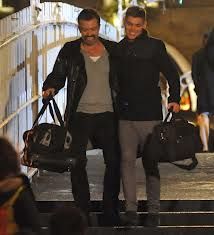 Soooooooo happy for them.
'Episodes': Bev/Sean
My favourite moment between these two is horribly sad, but everything works out ok in the end so there's that!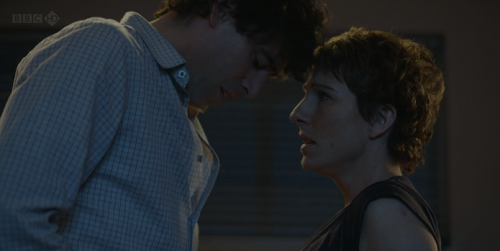 In S2 Bev and Sean have broken up after Bev slept with Matt LeBlanc at the end of S1. Bev wants to reconcile, Sean is still hurt and thinks reconciliation is impossible but he still loves Bev. One evening they start kissing in their office(yes,
their
office - horror of horrors, they're still working together while their marriage dies) and are about to have sex on a desk. Then Sean realises he can't sleep with her, because everything still hurts too much and he has to leave. His eyes are so full of feelings, like the pain and the longing and the knowledge. Bev's eyes are full of this dying hope, this realisation that they were so close but it hasn't quite tipped the balance. And they're still attached to each other while all this is passing between them. It's so sad, but also so ripe with emotions it's hard not to feel like the actors gave us something really good here to celebrate.
'Once Upon a Time': Belle/Rumplestilstkin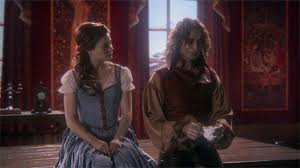 Again not exactly a moment (they have so little time together and when the curse is lifted his skewed priorities damn near broke my heart) but just the way he cherishes that chipped cup when he has lost her is both heartbreaking and hopeful. He
can
love.
'The Mentalist': Grace/Rigsby
I'm going to cheat and end with a bunch of moments for this pairing because who can choose just one for Van Pelt and Rigsby? These two characters are secondary CBI agents who work with Jane. I have kind of a
thing
about secondary characters in teams hooking up. The Van Pelt/Rigsby pairing is delectable and hopefully their relationship is coming back to canon soon. Enjoy.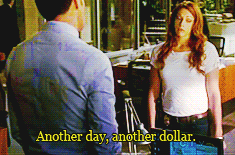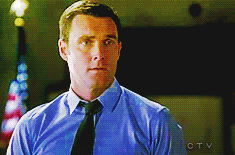 (source)
Hope you liked this Amy :D
---