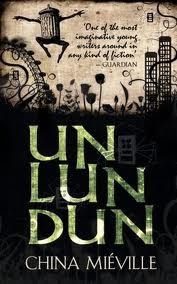 "Un Lun Dun" is the fifth China Miéville novel I've read in, what, two years? Wow, how did that happen? Oh right, I owe all this author consistency to what has turned into an ongoing 'read all the books and don't talk about the arms too much' Miéville read along project with
maree
. We pretty consistently fail at the last part of the project but we are rocking the first part like good and true fangirls - everything probably evens out.
After maree and I talked about Miéville's latest book, the young adult novel
"Railsea"
, she wanted me to read his other YA novel
"Un Lun Dun"
so we could compare the two. Going it alone this time was a little daunting; "Un Lun Dun" is over 500 pages long and Miéville is generally one of those authors whose work makes me want to send emails full of awed caps lock after I read 200 pages of his work. I'm still not sure if I'd have tackled Miéville's books if we hadn't decided to team read
"The City and The City"
.
All to say I <3 you maree and I'm so glad we started this crazy SFF journey together.
So, "Un Lun Dun" may look like a daunting, bibliographic mountain, but it is probably one of Miéville's most accessible novels. Although perhaps I should say that people with some experience of fantasy novels may find it more accessible than those who don't read fantasy at all because it is full of tongue in cheek genre references. Personally, I think if you've read the Harry Potter books or similar books you'll get the genre jokes but if you haven't you won't miss too much as the book is more than the sum of its satire.
Odd things have been happening around Deeba's friend Zanna. A fox appears to be watching her, Deeba sees Zanna's face in the clouds and mysterious, graffiti messages have been turning up around the girls. One day they see a bizarre creature (what seems to be a broken umbrella) crawl up to Zanna's window. Concerned and intrigued the girls follow the umbrella, at Zanna's insistence, tracking it to a basement. There, compelled by an unexplained magical force that makes her move 'like a sleepwalker', Zanna turns a large wheel on the pipes in the basement which take the girls out of London to the city of Un Lun Dun; an alternative 'abcity' made up of London's seeping refuse.
At this point in the narrative "Un Lun Dun" looks like a standard if fun portal fantasy; two young children are transported to a magical land by entering a special place and performing an action which gets the portal magic started. And to that the fact that it's written in a straightforward prose style, which came as surprise to me after having read some of Miéville's other novels, and it's all a bit traditional. However, keep in mind what I said about those genre references, because Miéville soon starts to gently pull apart and subvert some standard elements of traditional, well loved children's fantasy.
Once in Un Lun Dun, Zanna is quickly claimed by its citizens as the Shwazzy, a word which the girls identify as having links to the French word for 'choisi' (chosen). Here is the place where "Un Lun Dun" won part of my heart (although to be honest a traditional fantasy set up with girls as the main characters set it up to be won). Despite her chosen status and her heroine style blonde hair, Zanna is not the one who is going to save "Un Lun Dun", instead it's going to be Deeba. The prophesies are wrong and Zanna is rushed from Un Lun Dun after being injured by her enemy The Smog. Deeba proceeds on to save the world, despite the fact that she is supposed to be the 'funny sidekick'. Destiny is kicked firmly out of the way and the less conventionally pretty girl (who I'm pretty sure is Asian, although her race isn't specifically confirmed in this book) goes on to be the heroine. The narrative device of a heroic destiny may have empowered some of our most beloved fantasy characters, but the genre's attachment to The Chosen One narrative device is also rooted in old, unhelpful ideas about how people get to be heroic figures. It is great to see "Un Lun Dun" critique that narrative especially inside the constructs of what at first looks like a traditional story about a heroic quest to save the day.
What a shame that this critique of fantasy conventions was one of the only things that excited me when I was reading "Un Lun Dun"
1
. I enjoyed the invention as I always do when Miéville writes: the new words that manifest in exciting shapes; the bird explorer that lives in a birdcage attached to a human body; clothes made from book pages – all of that is so much fun. Unfortunately I didn't connect with much beyond these two elements.
As I said above "Un Lun Dun" is written in straightforward prose; the kind of writing that is designed to move plot and people around competently but which is not performing any linguistic fireworks. Sometimes this is exactly what a story needs and many writers have created absorbing stories that I love out of this kind of writing but it turns out that when Miéville writes this kind of prose it just doesn't work for me. In many of the other books that I've read by Miéville the prose style is clause filled and twisty; I think Miéville once said he was interested in producing 'archaic' sounding sentence structures. In "Un Lun Dun" the writing style in them feels dramatically simpler. Now, "Railsea" also features prose that is much simpler than the writing in say "Kraken" but there the style contains a sharp, purposefully feel. In "Un Lun Dun" the prose feels too full of unnecessary and uninteresting sentences. And by the end I felt like I was wading through text to get to an end that could have been achieved much more quickly. When I was reading lengthy novels like "Kraken" and "The Iron Council" I never thought I'd want less words from Miéville but about 100 pages from the end of "Un Lun Dun" I started to skim the text pretty brutally in an attempt to escape the feeling of being stuck in a text swamp.
I know, I feel like a traitor but as maree sensibly said when I had the same reaction to the prose in
"King Rat"
they can't all be epic winners. Maybe "Un Lun Dun" is Miéville's
"The Light Fantastic"
, at least for me – a book that makes interesting stuff of fantasy clichés but isn't perhaps a talented authors best work
2
. And that's ok, I can't love everything my favourite authors write and if Miéville has as good and long a career as Pratchett then I have plenty more books to look forward to.
Footnotes
1
My favourite critique is when Deeba refuses to go on the seven stages magical quest because it will cost too many lives.
2
"The Colour of Magic"
is still great though – everyone else is just wrong about that :P
Other Reviews
things mean a lot
just add books
Necromancy Never Pays
Asking the Wrong Questions