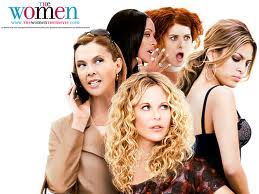 'The Women'
is a female focused film that is both refreshingly different and disappointingly normal. It follows the lives of four very different female friends, but it mainly concentrates on the life of Mary. Partway through the film Mary and her three best friends Sylvie, Edie and Alex find out that her husband, Stephen, is having an affair. Mary spends much of the rest of the film working out what to do with her life, supported by her friends. While all four women appear throughout the film, the most significant relationship is between Sylvie and Mary, who have the much complicated relationship of many long standing best friends.
First, the astounding thing about this film: it contains absolutely no men. It took me a while to work out that men were deliberately excluded from the world of 'The Women', as I kept expecting men to show up eventually. They never did. Check the cast list, there are no male actors in this film. The women talk about having important relationships with men, but these men never appear on screen (until the very end of the film) and they never speak aloud. The audience even only hears phone conversations with male characters through reported speech from the female characters. Excitingly, this absence of men this doesn't mean the film confines its characters to roles which are traditionally female either; women are powerful executives and at the end of the film we see a female doctor delivering a baby. Can we just take a moment to let this stylistic choice sink in? 'The Women' lives up to its name by removing men to put women at the centre of the action. Just, wow – an amazing choice in a world where women are so often defined by their relationships with men in visual media.
Despite this exciting, female focused approach, 'The Women' chooses to be quite ordinary in the societal makeup of its female characters. In other words, it's another white, straight, upper class feminist piece of media. To make an off the cuff comparison it's a 'Sex and the City' for viewers who require a more consistent complexity in friendship stories they watch. As in 'Sex and the City', most of the characters in this film are very well off. The majority of the cast is white. All but one main character is straight. As it has been, so shall it be.
It's hard not to see 'The Women' as a yet another piece of media that shuts a large group of women out of the feminist fortress and then justifies slamming the door by making these women stereotypical monstrous. Take Crystal, Stephen's mistress, who is played by Eva Longoria. Crystal is an unrepentant man stealer; an easy caricature for viewers to focus their hatred on. She's a straw mistress, with a ridiculous stripper-like name. She's also an overtly sexy, gold digging, perfume counter attendant who just happens to be played by a chromatic actress. Longoria is Cuban –American and one of I think, three actresses in the film who aren't white.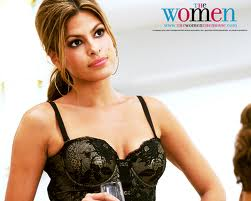 In 'The Women', her character stands in opposition to her lover's well off wife, Mary, who is played by a white actress, Meg Ryan. Crystal is clearly not meant to be read as likable; for one thing she betrays a member of her own gender in a film that celebrates female friendship. Mary, as the heroine of 'The Women' and a character that viewers spend a lot of time learning about, is clearly marked out as the beloved. It's difficult to imagine a situation where a wife and a mistress are able to understand rather than hate each other, so featuring this kind of female conflict doesn't automatically introduce problems of female competition into 'The Women' (although we might wonder why the central conflict in a female focused film has to be over a man). However, the particular ways in which this film draws comparisons between the two women makes this portrayal of the dueling mistress and wife …sticky.
In order to influence the viewer's feelings about Crystal and to make it easier for viewers to empathise solely with Mary, Crystal's is given a set of traits that make her particularly unattractive when set next to Mary's independent, every woman character. As I mentioned above she is super sexualised and it is implied that she displays her body to lure a man. Once she gets Stephen's attention she uses him for money. This kind of characterisation would make for an uncomfortably stereotypical portrait of the other woman in any circumstances. The opportunistic, vamp-tramp model of the other woman? Again? Really?! But taking Crystal's race and her economic class position into consideration the use of these particular stereotypes also reinforce negative perceptions about chromatic women and working class women. In contrast to Crystal, Mary may be attractive but she never exhibits her body publicly and she dresses in clothes that are coded as 'tasteful' not 'sexual'. A major story line in this film is about her attempt to build a business independently of Stephen and her father. It's difficult not to feel that these specific differences between the two women matter more when one is white and the other is chromatic, especially when they are both in a film where the majority of sympathetic characters are also white.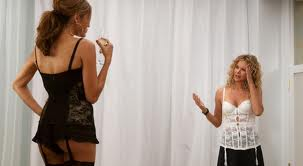 'The Women' does make token efforts at being a piece of intersectional feminist media. Alex, is played by Jada Pinkett Smith, a black actress and her character is also a lesbian. Unfortunately Alex is never really at the forefront of the story. Viewers learn very little about her, beyond the fact that she is
sassy
(oh dear lord), likes to party hard, isn't often in a long term relationship and likes hot women. Her inclusion in 'The Women' makes a difference. There have been enough female focused projects where the main characters are all white to make viewers realise that a black actress getting a main part in these projects is a big deal. And there really are too many projects about female friends that totally exclude lesbians. But the sidelining of Alex's character, the fact that she doesn't really get an individual story line or much character development, means that 'The Women' is far from progressive.
'The Women' also displays a blinkered understanding of class privilege. After finding out about her husband's affair, Mary works hard to try and understand what she wants now that her marriage seems to be over. In the end, she decides she would like to build her own fashion design company. It's interesting that while characters in the film keep emphasising that they are proud of Mary for doing this on her own, the start up money for this company comes from her mother. It is only Mary's position as the child of a well off parent that allows her to create her own company and realise her dream. Yet the film plays this off as if it is nothing, as if it isn't even worth commenting on the fact that Mary's economic privilege enables her independence.
Consider this in connection with the film's clear direction that audiences should view Crystal's money grabbing, man dependent ways as anti-feminist, or at least a lazy way to live. I'd say the film's instruction here is more than a little galling. Mary's family situation means she can afford to shape a good job for herself, allowing her to keep up her luxurious standard of living. Crystal works on a perfume counter. I don't think many would argue that having an affair in the hope of improving your financial circumstances is anything but skeevy, but jeez, drawing a feminist comparison between the financial decisions of a woman with rich, supportive parents and a woman who works in retail is
really
misleading.
Saying all this, I really enjoyed 'The Women'. I sat down to watch half and hour of it while I waited for some food to cook and ended up sucked into the entire film. I liked the dynamic between the four women, especially the friendship between Mary and Sylvie which was explored in-depth. The dialogue was funny. I really liked that this was a film about older women, who had made lives for themselves but were still developing. And I'm a sucker for stories that are really about women and female communities, not just about the men in their lives.
I just kind of wish film makers would produce more stories that concentrated on female friendships among women from various sections of society. And that any conflict between female characters in these stories didn't have to end up implying that particular types of women don't make the feminist grade, especially when there are racial and class implications to vilifying these women. You know what I really want after watching 'The Women'? I want the story of Crystal and Tanya's friendship, one where Crystal's new girlfriend meets Alex and they all go our partying together. If fan-fic won't provide, I guess I'll just go watch back episodes of
'Girlfriends'
and
'The_L_Word'
.